If you're a Virgin Traveler who wonders how others find the time to do fun and exciting things, think about this: you don't have to wait to take a big trip to start your Virgin Traveler experiences! Have you ever had to take your child to another town for a dance recital, soccer game or wrestling meet? Have you ever had to travel on business? You can turn those 'ordinary' events into a Virgin Traveler experience too.
For example, for my daughter's 17th birthday, I bought her tickets to a Fall Out Boy/Paramore concert in Saratoga Springs, New York at the Saratoga Performing Arts Center. Saratoga is about two hours from my home, so this birthday present came with an overnight stay. I wasn't going to the concert, so it was important for me to find something to do to keep myself busy. Of course, I was on deadline for other articles, so I spent part of the time working in the hotel room, but the Virgin Traveler in me beckoned for me to explore. I didn't know when the concert would end, so I couldn't go too far, but I realized that these little nuggets of free time anywhere you go are great for uncovering new experiences.
That's what every Virgin Traveler should do – find a nugget of time and do one thing, even if you're not staying in the town long.
For example, if you're taking your son to a new-to-you city for a wrestling meet, do a little research before you go. Is there a museum you can visit when the competition is over or a popular restaurant where you can enjoy a meal before you travel back? Maybe on your business trip there's one sightseeing tour you can take when the meeting lets out or there's a historic statue you can stop by and photograph before you board the plane. ONE THING. It makes the ordinary trip a little different and it gives you that traveling experience. If you're not traveling out of your own hometown yet, don't worry. You can do this there too. Think you know everything about where you live? Think again. There's a new park to explore, a museum to tour or an adventure you've never experienced. It's new to you, so it's a Virgin Traveler experience. You can build from there.
Honestly, I've been to Saratoga Springs before and it's an adorable city. My brother and I went to the Saratoga Casino and Raceway a few years back and indulged in some horse betting action, but I didn't see more than the casino. So how did I make this trip new to me? When I was done with my work, I had about an hour before I needed to be at the concert parking lot, so I walked around the area where my hotel was.
We stayed at the Inn at Saratoga. This is the second time I've stayed here. My fiancé and I stayed here when I took him to see his favorite band one town away. It's clean and the people are friendly. The rates are moderate ($150 for this time), but again, I was comfortable and breakfast for me, my daughter and her friend was included. I would definitely recommend that you stay here.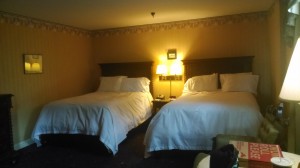 Our hotel was adorable, but when I went for a walk around the town, I found some of the cutest buildings and homes. Even Hayley Williams of Paramore, when in town for the concert, Tweeted about how much she loved Saratoga Springs.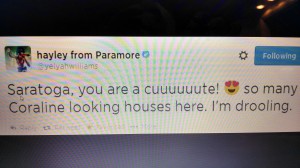 When I walked, I saw a building that absolutely captured my attention and made me drool. It belonged to the Batcheller Mansion Inn, and it was breathtaking.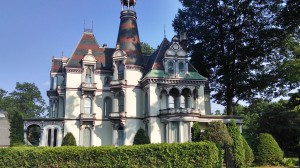 On their website, they say it's one of the "outstanding landmarks of Saratoga Springs, it is an architectural pastiche of High Victorian Eclecticism combining French Renaissance Revival, Italianate and Egyptian influences. It is crowned by a mansard roof and its tower is topped by the evocation of a minaret. Built in 1873 by George Sherman Batcheller, it still sits majestically on the corner of Circular Street and Whitney Place with a commanding vantage of Congress Park, the heart of historic Saratoga Springs." If you want to read more, check out their website.
I couldn't stop staring at this building, but I kept walking and just took in the architecture of the town. It wasn't a tour and I didn't do anything too exciting but just walk, but I found out recently how much I enjoy looking at the architecture of old homes and Saratoga was a paradise. But if I had more time, I would have visited more of Saratoga's touristy things to do.
Saratoga Casino & Raceway (Yes, I would've gone back. I have a love of the slot machines, but I'm trying to watch my travel budget!). On that note, the National Museum of Racing Hall of Fame (http://www.racingmuseum.org/) would've been a great stop too. The National Museum of Dance: http://www.dancemuseum.org/ intrigued me as well.  They have exhibits and performances and free admission on Tuesdays and Wednesdays. If you like the idea of visiting Saratoga, visit http://www.saratoga.com/ for more information. Keep in mind that the summertime is prime racing time for this community and hotel prices are at a premium and often not available. If horse racing isn't your thing, consider visiting at an off time.
So remember:
1. Great experiences can happen at anytime.
2. Research before you go.
3. Try one new thing.
So what can YOU do to turn an ordinary trip into a Virgin Traveler experience?