Day One: Florida, 2014
When I was planning our trip to Florida – one I had already taken before, so it wasn't quite a Virgin Traveler experience – I realized I needed to throw something new into the mix. As I mentioned in a previous post, that's how it becomes a Virgin Traveler experience. You're visiting something you've never visited before or trying something new you've never tried before.
Studying a map I realized how close Cape Canaveral and the Kennedy Space Center was to Orlando – only a short 45 minute ride. Now I know I can hear Floridians and frequent travelers saying, "Well didn't she know that?" Um, nope. I knew Cape Canaveral was IN Florida, but I wasn't sure of its proximity TO Orlando. To be honest, when I start to think about things I want to see, but know I can't (or that it has to wait) I try to block it out of my mind. Every time I heard of a friend who had visited the Kennedy Space Center, I was jealous. That's something I need to work on! So I blocked it out. Not this time.
We drove down to Florida from New York on Saturday and arrived on Sunday. We took the rest of Sunday to just chillax, swim and get ready for the week. On Monday morning, we visited the Kennedy Space Center.
When I'm home, every day my honey and I sit outside and look at the stars, something I had never done before. Since I started, I've seen four shooting stars. FOUR! We've also watched stars just 'move' – I think they are satellites to be honest – from one side of the sky to the other. It's beautiful to sit outside and just stare into space. I forgot how much I enjoyed doing it. So when this opportunity came up and I remembered this and the blast-offs I've watched, including the Challenger that exploded, I was really excited to take this day trip. It was something NEW.
The Kennedy Space Center is definitely a day trip. You can visit everything you want to visit and, if you're lucky, you can watch a launch! On April 14, visitors got to see the SpaceX launch, which is Space X's third resupply mission for NASA to deliver food and supplies to the International Space Station (ISS).
You can also visit Space Shuttle Atlantic, train on simulators, operate the robotic Canadarm or dock the International Space Station. We really enjoyed the KSC Up-Close Explore Bus Tour because it brought us close to the Vehicle Assembly Building and the Shuttle Landing Facility.  We also visited The Apollo Treasures gallery which showcases treasures from the Apollo moon missions. There are astronauts you can meet and guests you can talk to.
Even though you might think that their Angry Birds exhibits is only for little ones – and it probably is LOL – we enjoyed playing a real-life version of the game. The mirror maze should be saved for the little ones though.
The simulated flight was 'okay' but quite short and we didn't go to the U.S. Astronaut Hall of Fame. It was the middle of July and it was just one of those days that the heat got to all of us, but just seeing where these rockets take off was enough to give me chills. When I saw information on the Challenger, I got all misty. There are some days you will just never forget. That was one of them for me. Overall, I loved just being there and wished that our program still existed.
Here are a few photos from our day there and a few tips follow: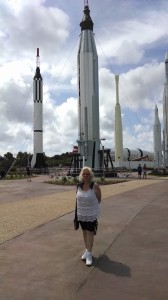 Yup, that's me. The obligatory 'pose in front of a rocket,' picture.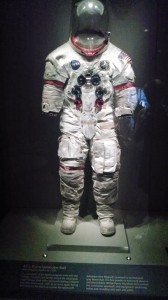 Loved looking at the actual space suits.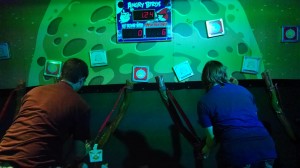 My kids playing "Angry Birds." It is HARDER than it looks! I hate it! LOL And it has nothing to do with the fact that my kid and every kid that went against me beat me. Nope, nothing to do with that at all.
For more information, the Kennedy Space Center Visitor Complex opens daily at 9 a.m. with closing times varying by season.  Admission is $50 + tax for adults and $40 + tax for children ages 3-11. The Kennedy Space Center Visitor Complex offers annual passes starting at $75 + tax for adults and $60 + tax for children ages 3-11. For more information, call 877-313-2610 or visit www.KennedySpaceCenter.com.
TIPS ON VISITING
1. If you definitely want to see an astronaut, check out the schedule of their appearances when you get there. Schedule the rest of your day around that so you fit it in.
2. Don't miss the bus tour.
3. If you're walking into the Shuttle Launch Experience through their gift shop, you're going the wrong way and will miss out on the first part of the experience — which included a climb through tunnels that the little ones may enjoy. This ride wasn't our favorite, surprisingly, but it does give a small taste of what the astronauts go through.
4. On a budget? We bought kids meals for everyone. It was a small nosh that held us over until we got back for dinner. It came with a drink as well and was only about $5 per person. Trust me, nobody questions you.
Full disclosure here: As a professional writer, I contacted the Kennedy Space Center's media department simply for information on visiting. I told them about my background (I'm not knew to writing, just 'newer' to travel blogging) and they were VERY gracious to send enough passes for me and my family to visit for the day. I know that can't happen to other Virgin Travelers, but honestly I had budgeted enough money to go even if the Kennedy Space Center hadn't been so gracious. My suggestion to other Virgin Travelers struggling to travel and pay bills is definitely look for free events you can attend in each town you visit – there are plenty.
Have you ever been to the Kennedy Space Center? Are you a Virgin Traveler? Tell me in the comments section!