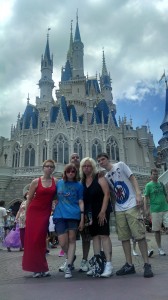 My family and I taking a photo in front of Cinderella's Castle. We call the puffed out cheeks a "hurp" photo and we take one of these photos anywhere we go. Make sure to make something your own on your trip too!
Magic Kingdom.
I'm a big kid. I love, love, love Magic Kingdom. I get excited when I get close to the castle. I don't know why. Wish I had an explanation. But even if I didn't show it on my face, I kept stretching around everyone on the monorail to try and catch a glimpse. I think it's because when I'm there I feel like anything can happen. That I can 'make' anything happen, just like I made this trip happen.
It was also a bittersweet feeling seeing the castle. The first time I took my kids, my youngest was 4. The second time she was 7. Now she was 17 and this would probably be the last time that we'll go together for quite awhile. I wanted to remember every moment of my trip.
We spent one day at Magic Kingdom, one at Epcot and one at Hollywood Studios, formerly MGM. The last time we were here we spent two days at Magic Kingdom. You can't do it all in one day, especially if you're waiting on line for an hour and a half just for one ride. Of course now they have the Fast Pass, which makes the day a lot easier as long as you've researched ahead of time what you want to see and want to skip.
Tip: Buy Birnbaum's Guide to Walt Disney World at least a few weeks before you go. We would sit together at dinner and read through each park and decide what we wanted to do. If something was really important to one or all of us, we made sure to move it to the top of the list. Then we planned out what we would Fast Pass and what we would skip if we ran out of time. Walt Disney World is one trip that is worth the research and the time spent deciding what you're going to do.
Also remember it was about 90 degrees while we were there which slowed us down, but we got to see a lot of fun things.  Unlike last time when I could go 14 hours at the park without flinching, we didn't last as long. No, we didn't go back to the hotel and come back. We did whatever we wanted and then called it a day, heading back to the hotel for a well-deserved jaunt in the pool and the hot tub. After all, vacation as also about relaxation and I didn't want to go back home needing another vacation.
So, what did we see (the kids remembered a lot of stuff from last time, so I'll just give you the highlights):
Pirates of the Caribbean: My oldest is a huge fan and we had to go back and do it again.
Splash Mountain
Big Thunder Mountain Railroad
Liberty Bell Riverboat
Mickey's Philharmagic (awesome)
Buzz Lightyear's Space Ranger Spin (we beelined right to this as it was our #1 selection)
The Haunted Mansion's line was way too long, so we skipped it even though it's one of our favorite memories.
Space Mountain
Tomorrowland Speedway (leave this to the little ones, we only chose it because two of us couldn't do Space Mountain. It wasn't worth it.)
Of course we shopped and ate.
There's so much to do that it's hard for me to say do this and don't do that. It all depends on your party – is it just you and another adult, teens, pre-teens, kids or babies? Do you have any seniors with you? Include everyone in on your plans. Trust me, with a little juggling, you can definitely fit in what everyone wants to do if you plan it right.