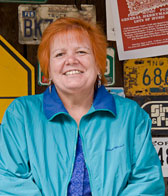 When I started this blog, I talked to several adults who said they didn't think they could travel the way they really wanted to because they each had a disability. So I did what I do with almost everything that comes up in life, I contacted one of my most knowledgeable writer friends. This time, I turned to Candy Harrington. Known as the guru of accessible travel, Candy Harrington has made a seriously cool career covering this niche exclusively for nearly 20 years. She's the founding editor of Emerging Horizons Barrier Free Travel; A Nuts and Bolts Guide for Wheelers and Slow Walkers.
Harrington's other titles include, There Is Room at the Inn; Inns and B&Bs for Wheelers and Slow Walkers, 101 Accessible Vacations; Travel ideas for Wheelers and Slow Walkers, and 22 Accessible Road Trips; Driving Vacations for Wheelers and Slow Walkers.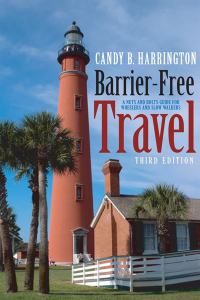 In 2014, Candy released Barrier-Free Travel; the Grand Canyon for Wheelers and Slow Walkers, the first in a series of accessible travel guides to popular destinations throughout the United States.
When did you start to travel? If you did so when you were older, what stopped you from going when you were younger?
To be honest I've always traveled. My first memories are of flying with my dad (he was a private pilot). Usually we'd just go somewhere and have lunch and then come back home. When I was five, I went to sleep-away camp for five days, and while all the other kids were crying and homesick, I loved it. I've always loved seeing new things and meeting new people. I was the kid that cried when I had to go home!
Do you remember your first trip? What was your favorite part of that first trip? Worst part?
My first trip on a commercial airline was when I was 8. We lived in California, and my mom took me to Florida to visit my aunt. On the way back, we stopped in New Orleans for a few days (my mom said it was educational). Flying was a big deal back then (in the 60s), and I remember wearing my white gloves. My favorite part of the trip was going to the beach. I loved the water (still do) and I spent most of my days swimming and beachcombing. The worst part of the trip (through the eyes of an 8 year old) was all the fancy restaurants my aunt took us to. I'm sure my mom loved it, but I clearly remember asking her, "Do we have to go to another dark restaurant tonight?"
You specialize in writing about traveling with disabilities. Often, I hear, "I can't travel, I have a disability." So those travelers are putting off their trips. Now that they are older, what would you say to them about finally taking those trips?
First off, I would remind folks that things are much more accessible today than they were 20 years ago, and more and people with disabilities are traveling these days. There are many more choices today; in fact, I just wrote an article for Westways magazine about unique accessible travel opportunities that included everything from hot air ballooning to ice fishing. If you want something milder, you can always take a cruise. Of course, road trips are my favorite way to travel, and they are ideal for anyone with mobility issues. You can set your own pace, take along all the equipment you need and you'll never have to search for accessible transportation.
But really if you have never traveled before, make your first trip a overnight getaway close to home. That way you'll have a bit of a safety net. If things don't go as planned you can always head back home. And after you've mastered the close to home trip, keep expanding your horizons. You'll be a world traveler before you know it.
What one item you would recommend that every Virgin Traveler have in their suitcase? 
I never leave home without my sense of humor. Part of travel is dealing with the unexpected – from waking up to find no water in a backwoods hotel room, to being stuck in Hue, Vietnam to ride out a typhoon – and when that happens you can either choose to let it ruin your trip, or just find a way to work through things. A sense of humor helps you do the latter. I should also add that it's best to take along someone with a sense of humor too, and I'm grateful that my husband Charles has one. If you want a physical item, I never leave on a road trip without snow chains or cables. Seriously, I've hit snow in June!
Looking back, would you change how or where you have traveled?
I wouldn't change a thing, even the missteps and hiccups, because even the bad experiences have allowed me to see things that I never would have otherwise experienced. For example, we were in London on 9-11, and what was supposed to be a quick 3-day hotel inspection quickly turned into an extended 2-week stay. I got to experience the British perspective of this horrific disaster. And although I wish I could turn back the clock and erase the World Trade Center attack, being in London for the aftermath gave me a new appreciation for the compassion of the British people.
You've seen so much. Where is your favorite place to visit?
I love hot springs of any kind – from funky to fancy. Some of my favorites are Summer Lake Hot Springs in Oregon, Riverbend Hot Springs in New Mexico, and Benton Hot Springs in California. When we visited Iceland in September we made it a point to stay at a guest house on the river's edge that had natural thermal hot springs. Oh, and of course we visited the Blue Lagoon. You just can't beat a hot springs where you can get a silica mud treatment and a very tasty blue adult beverage. Wherever I go, I look for hot springs.
Finally, what's the most important piece of advice you would give someone who is a virgin traveler — traveling for the first, or one of the first, times later in life?
Expect the best, but have a contingency plan in the back of your mind in case things go south. Don't obsess over it, just know it's there. And don't overschedule every minute of your trip. Allow yourself plenty of free time. This will give you the opportunity to take things at your own pace, and explore some of the local undiscovered gems.
For more information on Candy, get to her website at http://candyharrington.com/.