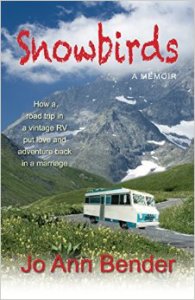 My entire life, I've had visions of living in an RV traveling around the country, whether it be on my own or with my family. I would stay in warmer states when it got too cold and cooler states when it got to hot (just call me Goldilocks because I wanted my temperatures to be juuuuussst right). I would be part of that RV community that I hear so much about. I also get excited when others talk about their life on the road.
Several years ago, I had the pleasure of interviewing American Idol winner Taylor Hicks (I'm a huge fan) and he has always talked about wanting an RV to travel and gig around the country and that sounded so exciting to me! I even got a kick out the movie RV with Robin Williams (don't judge me LOL) although I hoped my trips wouldn't turn out quite like his.
Well, I've never been in an RV, never owned an RV, never rented an RV. To this day, I don't even know if I'm going to like being in one. However, the idea of my own place to sleep and a bathroom to use when we're a hundred miles between rest stops is a nice feeling. I'm hoping this year to finally live out that dream of being in an RV and on the road.
That's why I was excited to talk to Jo Ann Bender, author of Snowbirds: How a road trip in a vintage RV put love and adventure back in a marriage. She did exactly what I want to do. She calls her RV her 'girl' and takes us on the journey of buying it, decorating it, packing it and hitting the road with it.
But as anyone knows, taking a vacation with a loved one, never mind an extended vacation, can be an interesting experiment in your relationship. Some people mesh well on the road, while others find that so many hours away from home in a cramped RV or even hotel room doesn't necessarily bring out the best in people.
Bender's book is a great read for the Virgin Traveler who wants to know what it's all about. I had a chance to talk to Bender about her book and her experiences:
The book documents a 2,000 mile road trip. When did you start to travel in life?Skipper (Bud Budinger) is my second husband, the best ever and he is an adventurer. In fact, after our memoir RV trip in the vintage RV, we bought a 27-foot Winnebago and began trips to Arizona in the winter after he sold his engineering company. We went to our mining claim and looked for lost Spanish gold.
The vintage RV trip was my first true road trip. My favorite parts of the trip were the unique places in the U.S. though which we passed: San Antonio, New Mexico with its City of Rocks State Park; Ft. Bowie, one of the least visited U.S. National Parks. The old fort was a place right out of the classic old Western movies and where I felt a longing to write a book about a laundress who undoubtedly worked here.
Why not rent a car?
Cars can be overnight vehicles for some people. Skipper doesn't like hotels so a Recreational Vehicle is perfect for him, or someone like him who likes the familiar and having his stuff close at hand and not having to schlep it around in suitcases.  We even tried a snowbird trip once in his Comanche airplane after 9/11 when he flew it to the East coast to see kids and friends and then into Mexico where we stayed in San Miguel d'Allende while the plane was being painted.
I really want to do the RV across the country thing too, would you recommend it?
Cross country trips . . . why not?  But not along the freeways unless you're in a hurry. Back roads are where you'll find America at its finest, the best at what used to be, the friendliest and the juiciest.
You've seen so much. What was your favorite place to travel?
Looking back, foreign travel, although very exciting, can be stressful due to language differences and knowledge of how to move about. My mother and I went on a mother-daughter trip to Sweden, Finland, Denmark and Russia.
My favorite food was in Sweden after the trip to Russia where the food was gray and mostly not edible.  I was starving.  "Mother, let's find a hotel nearby."  She didn't want to walk up many more steps so we chose the closest. I wanted the buffet, she just wanted toast and coffee. I had two bowls of oatmeal to start, then began next to sample the many casseroles and plowed through the lovely pastries and deserts.  "I've never seen anyone eat like this," she said. Unforgettable.
In Sweden I first tasted lingonberries. Now, I have them with crepes at European restaurant in Spokane.
On our recent trip to Turkey, we were fortunate to know a man in the travel industry who knew contacts there. They had hosted a foreign student from Turkey and he had returned there to begin a travel agency. Thus, we had an affordable trip for three weeks visiting with a well-educated guide who drove us to a great sites every day in his own car. If we had traveled for Gonzaga University credit, we could have
received five credits for early Christian history.
What advice would you give to a Virgin Traveler?
It can be scary to step out of your comfort zone of familiarity. But, that's what makes being a virgin traveler exciting, memorable, eventful. Your eyes are opened to new horizons, feelings, joys, memories. Whatever spot in the world, or avenue of travel, seems to attract your notice, follow your intuition.  Learn more about the city, the country, the mode of travel.
Thanks Jo Ann! Maybe I'll finally become a snowbird too!
For more information on Snowbirds or to pick up a copy, click here.