A few years ago, I was editor of seven New York regional publications and I had the pleasure of getting to travel to these towns, see sights and meet a variety of people. I came to absolutely adore. Warwick is a quaint town in the southwest part of Orange County, New York, in the United States. They also have Warwick, Greenwood Lake and Florida villages too. If you go to visit, you can't miss the Warwick Valley Apple Fest, held every October — it's a lot of fun!
Warwick also reminds me of New Paltz, New York, where the people are very artsy and the people are super sweet. The homes in Warwick Valley are also old-fashioned and beautiful. If you visit, definitely check out Fetch Bar & Grill, located at 48 Main Street. This place is adorable and the food is terrific.
When you walk in your eyes will immediately gravitate to the wall of pups. Literally, pups. There are pup photos all over the place and on the back wall, you can browse those pups who are available for adoption. Awesome.
I had a chance to interview owner and chef Adam Powers for my magazine and this article appeared in Warwick Valley magazine. If you're a fan of "Chopped," Adam appeared on the show a few years back and we had the chance to talk about his experience.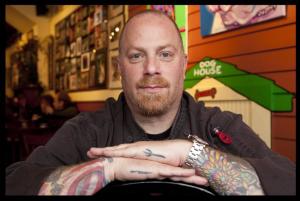 "Chopped" has become one of the most popular shows on the Food Network, and I don't miss an episode. So I was fascinated to learn after becoming editor of Warwick Valley Life that Warwick's own Adam Powers, owner of Fetch Bar & Grill, had appeared on an episode that aired May 17, 2011. I had to ask him questions about his experience and about what foes on behind the scenes.
"The producers of Chopped were originally shopping out people and came in to Fetch to see if I was interested," Powers says. "The show was on the verge of being cancelled. They said 'We like you,' but they didn't think it was going to get picked up."
What was the interview process like?
"They meet you, put you on camera, ask you foodie questions, and see, for TV's sake, that you can speak," he says.
What was your reaction about being picked for the show?
"I had seen it a few times, but I didn't know if the could get the caliber of cooks together for it," he says. "But anything Food Network does is unbelievable for your establishments whether you win, lose, or draw, so I wanted to work with them."
Were you nervous?
"There's definitely that feeling of 'Is it really going to happen and is it really something I can do well?'" he says.
He started watching "Chopped" reruns and closely examined the pantry. Powers explains that filming is done in Queens. "It's an incredible process," he says. "I couldn't believe how many cameras there are on you and in the wall, plus the booms and the microphones.
"You think about your go-to recipes, he says. "If I get a goat head, what am I going to do with it? I've shucked a few thousand oysters, so I was happy to see them as the appetizer round."
As stressful as the show seems, Powers says there was no time to get nervous. "You have 20 minutes to bake the appetizer," he says. "So I looked around and saw the pans weren't even hot or the water boiling, so I put them up high and started thinking about what I could do with the food. I thought about Fetch and what ingredients I make on a daily basis that fit with what these ingredients are."
Powers made it to the dessert round, but didn't win. "I became good friends with the producer since, and the first thing the contestants agrees was that it's about being professional, because even if you got chopped you could come back to do something else for Food Network."
Powers admits that television editing makes the judges look meaner than they are. "There's so many more hours than what we see," he says. "When the judging happens, you're standing there and they are taking shots, so your food sits awhile. We got there at 6 a.m. and didn't walk out until midnight. When they critique people, the crispness and freshness of some of the dishes has changed. It can only be so good."
For more information on Fetch Bar & Grill, click here.