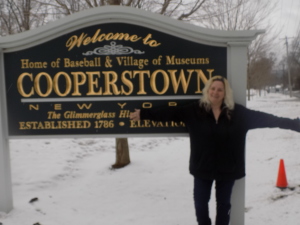 If you love baseball, history or a combination of both, you have to travel to Cooperstown, New York.
My mother told me that when I was a little girl we actually did travel to Cooperstown, but I don't remember it. I love baseball and as a New York Mets fan I promised myself that when I was planning my Virgin Traveler trips, I would return to Cooperstown — after all I'm only two hours away — and visit it again, bu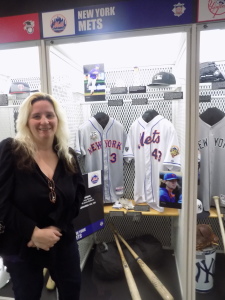 t this time I'd remember it.
I'll never forget it. 
Cooperstown, New York is a quaint little community that is pretty much known for its baseball legacy and as home of the National Baseball Hall of Fame, a museum that is visited by more than 300,000 people each year, as well as Doubleday Field. But there's so much more to Cooperstown!
Baseball first though: Spring training was still underway when I went, but that is considered off-season for the area and, as a result, the museum wasn't that busy at all. This really worked out well for us (I went with my honey Ej 'The Rainmaker' Garr who has an emotional connection to baseball, especially to Joe DiMaggio and watching him visit the museum for the first time too was just as fun as experiencing it myself).
Without too many tourists around, I had time to stop and read the historic plaques about what the players contributed to the game and absorb the history of it all without being elbow to elbow with other fans of the game. Honestly though, you can be at the museum for HOURS in order to read all of the plaques and displays they have.
There are a few downsides to this though. First, the hours to the museum are shortened during the off-season and many of the small shops are closed for the season. Because we were on a short stay, there is so much that we wanted to see that we couldn't. Also, there are many related events, such as the Hall of Fame Classic Weekend and the induction ceremonies that are both held at Doubleday Field during the summer that give the trip that complete baseball ambiance. We wished we could have been there during those special times, but the trip was still pretty awesome.
To think that so many legendary baseball players – such as Joe DiMaggio, Babe Ruth, Cy Young and Jackie Robinson — walked where I walked was an incredible feeling. For me, the most emotional part was a door marked "Colored Entrance," which literally took my breath away, and reading about the struggles that black athletes had in the game.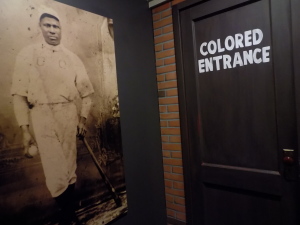 However, it was also pretty awesome to see the museum also honor women of baseball and the fans who make the game memorable.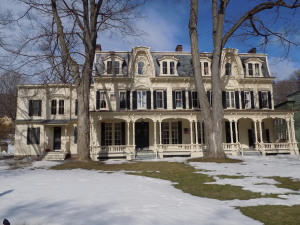 We were invited to stay at the Inn at Cooperstown as guests of the owners Sherrie and Marc Kingsley (Ej and I are both founders and co-hosts of Sports Palooza Radio) who bought the place 13 years ago. It really was like staying at a home away from home. Honestly, it was also my first experience staying at either an inn or bed & breakfast and I'm likely to do it again. It was a very cozy and VERY clean experience and except for a few creaky hallway stairs, the place was pretty quiet. I don't know how it is during peak time, but if I was heading back there again, I'd definitely book a room.
Here are a few more pictures from the trip:
Your trip wouldn't be complete without a the Baseball Wax Museum, Cooperstown Bat Company and a meal at Doubleday's Cafe. We actually ate a late dinner at Doubleday's and I had a burrito. Yummy!
Cooperstown, New York is a great trip to take whether you are the baseball fan or you have kids who love the sport.
Who's your favorite team or player and why and have you ever visited the National Baseball Hall of Fame? Let me know in the comments section. (A little side note: Speaking of Joe DiMaggio, check out our interview with Kostya Kennedy, author of 56 Joe DiMaggio and the Last Magic Number in Sports on our Sports Palooza Radio show).
Tomorrow: Our visit to the Brewery Ommegang in Cooperstown.