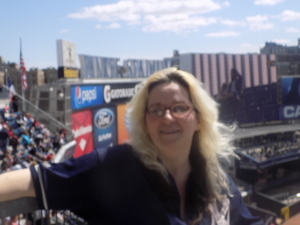 Full sports disclaimer: In my post on Cooperstown here, I confessed I am a New York Mets fan. So, what the heck am I doing at a New York Yankees game?!  
Honestly, I always wanted to go. There's just so much sports history there and I never got to see a game at the old stadium, even though I only lived less than a half hour away. So on my list of places I always wanted to see was the new New York Yankees stadium. I bought tickets for my honey's birthday — he's a huge New York Yankees fan — and was able to watch them lose to the Boston Red Sox on April 11, 2015.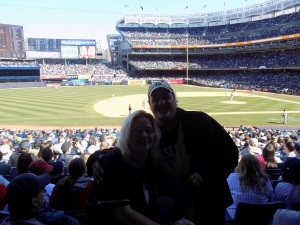 But I did dress the part as a Yankees fan in my honey's New York Yankees' Bernie Williams jersey and yes, I rooted for them, because I wasn't going to root for the Boston Red Sox. I didn't have a death wish.
The stadium is gorgeous, but as strange as it sounds the day wasn't just about watching the game.
We visited the museum (which is free to all ticket holders). It only takes about 15 minutes or so, depending on how long you want to stay. You can get lost looking at memorabilia such as Lou Gehrig's jersey, the World Series trophies and rings and a wall of autographed baseballs.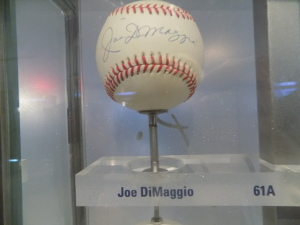 Joe DiMaggio autographed baseball.
This still chokes me up.
Thanks to a friend who had a ticket to a private area, we also got to walk around the Daily News photo collection that hangs in the hallways.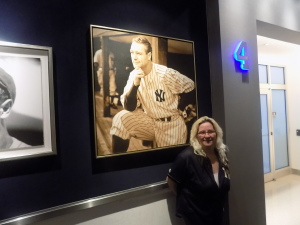 These are photos that have not been seen anywhere else and they are absolutely amazing. We took our time and it can get sentimental seeing all of the old pictures of Joe D, Babe Ruth and Lou Gehrig. It really takes you back.
Overall, we watched about 2/3 of the game and then toured the stadium. We didn't get to Monument Park this time, so maybe next time and yes, I think there will be a next time. No, I'm not a permanent Yankee fan, but I love baseball and this trip was easy and fun.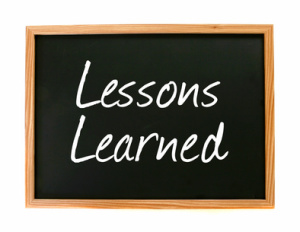 5 Virgin Traveler Tips for a New York Yankees game at Yankee Stadium
1. If you live in proximity to Metro North, the convenience of the 153rd St. stop trumps driving to the park. We got on in our hometown and off at the park. A short walk on the pathway over and we were there. No parking hassles at all. Totally worth it.
2. Speaking of the pathway, TAKE YOUR TIME AND LOOK DOWN. You will see historic markers along the pathway that tell you a little about the history of the team. It's easy to miss these and they are pretty cool.
3. You really can watch a Yankees game and not break your budget. Our tickets were $40 apiece, but you can find bleacher seats for $25. The train (from our stop) cost us $26 each. I bought a foot long hot dog for $7 and a soda for $6.25 (souvenir cup). If you have small children or want to split the foot long and soda with a friend you can save more money. Of course if you're going to throw in a few beers, your budget might get a little strained. Try to eat lunch before you go to the park and maybe just grab a snack or two.
4. That being said, I absolutely hate the seats. I have nowhere to stretch my legs and I have a bad knee. After about an hour sitting there, I had to get up and walk. A few more inches in front of me would've been much more comfortable.
5. The museum (free) is a must. Take a half inning off and go see it, whether or not you're a Yankees fan.