When I first came across the name of Lynne Martin's book, I think I started to shake. "Home Sweet Anywhere: How We Sold Our House, Created a New Life and Saw the World." Wow, everything I wanted to do in one travel book title. At first, when I read the title, I thought that the authors had to be young backpackers who just graduated from college and could sleep anywhere and eat anything. On the contrary, Lynne is 74 and her husband Tim is 69. This book gave me hope that even though I turn the big 5-0 this year, it's never too late to start to live your travel dream.
From the back of the book:
"Reunited in love after thirty-five years and wrestling with a serious case of preretirement wanderlust, Lynne and Tim Martin make a life-altering decision one day to sell their house and possessions and hit the road to live internationally full-time. They've never looked back. With nothing but two suitcases, two computers and each other, the Martins embark on a global adventure, taking readers from sky-high pyramids in Mexico to meeting monkeys in Marrakech, from bargaining in Turkish bazaars to learning the contact sport of Italian grocery shopping. But even as they embrace their new home-free lifestyle, the Martins grapple with various challenges their newly global life presents, including hilarious and frustrating language barriers, finding financial stability and coping with the family they left behind."
That's just awesome. I know this book is a memoir of her and her husband Tim's travel experiences on the road, but after I read it, I felt like I was holding THE how-to manual in my hand for the life I always wanted. It still sits on my desk as a reminder of what I'm working toward. After I read the book, I had to talk to Lynne.
What has been the reaction to the book?
Most people say, 'I want to be you.' We still get hundreds of emails and I'm delighted. Most people just say that we are an inspiration, but we are just doing what we want to do. However, it opened up people's eyes – especially older people – that they don't have to do the predictable thing. Life gets in the way – you have kids or parents who need your attention. There are jobs and, of course, money too. I couldn't have done this when I was younger. I was a single mom with a business to run and I had kids. For me, it wasn't possible.
What apprehensions did you have before you took your first big trip?
I was scared and only a crazy person wouldn't be. It's true of anything we do of any value. People who don't take calculated risks miss a lot. Take that risk and go. We went out on the road together where we're isolated, don't have an established pattern, don't have community, hobbies, and involvements and, if you're doing this with a spouse, there have been great revelations. In our case it worked out great, because we still find each other's company fascinating.
The truth is we never really looked back. I cringe at the idea. But I had a fear of leaving my family – not seeing my children or grandchildren. Then of course we're financially worried.
How can you afford all of this?
We made a financial deal where we earned just a little money, but we also sold our house – unfortunately at the wrong time. We added that money to our proceeds and each month we live on that and, yes, on Social Security.
What tips do you have for others who want to do this?
Find a way to save something. You can find jobs along the way, but it's difficult to do that. For example, you need a work permit if you want to work in, say, France. Be conservative with the money you have. You don't need to sell your house like we did, but you can trade your house. Lots of people are doing that successfully. Or switch it for another place. And we do not live differently from the way we do in the United States. We don't take cabs, we use buses and public transportation. We go out for a meal maybe twice a week. We rent apartments. We live like the people who live there do.
For example, when you go to London or Montana, where are you going to live? An apartment in a neighborhood doesn't have to be expensive. Don't go on the expensive tours. If you are going to be there for awhile, you have the leisure of looking around. Some of the best things you see have nothing to do with tourist monuments. It has to do with meeting people at the next table.
Go out for a few months on the road and keep your house. Rent it out and see if this life is for you. It's full of daily frustrations. When we went to Buenos Aires, it was a shock to the system. We didn't know how to live in a non-tourist area and make friends with the locals. We didn't know that stuff yet and it takes a little time to get your feet wet. We also cook at home, so I'm forever in someone else's kitchens and they are not always meant for someone else to come in to cook every day. I had to adjust my menus and ambitions.
Financially, it can be overwhelming. Look at your money. What is your overhead? Write down everything you need to stay alive each month and then whatever you have to spend on this or that. Then look at where you would like to go, say Southeast Asia. What are the costs of the apartments in that area? How do you get to go there in the least expensive, yet sensible, way.
For more information on Lynne's book or to follow where the couple is now (in Mexico!!!), visit www.homefreeadventures.com.
Lynne is currently working on another book to be published in 2016. Can't wait!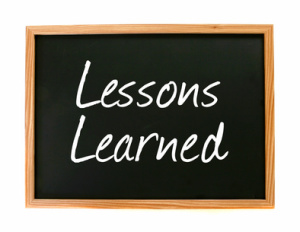 What I learned from reading "Home Sweet Anywhere":
1. Live like a local: I never thought about living in an apartment on a short-term basis while traveling somewhere. As a result, my honey and I are thinking of renting an apartment on an island when next winter rolls around and just doing what Lynne did — taking our time, living like the locals, working and enjoying being away.
2. When you think you're done planning and researching, keep going: All of their travel takes a lot of planning. I knew that going into it and I spend a great deal of time researching any trip I take, even a day trip, but realized that I need to plan even more than I already have. If I want to go somewhere, say a year from now, I should be learning everything as early as possible. Of course you can plan a trip overnight, but you'll save time and money if you spend the time researching.