This New York City trip was more like a chaperoning job, but I try to turn everything I do now into a Virgin Traveler visit. My daughter was seeing a Paramore concert at the Beacon Theater on the upper west side of New York City. She didn't know her way around the Big Apple yet, so I went with her.
The Beacon Theater is a historic theater that is now owned by Madison Square Garden and has been the home of some great entertainment, including the Tony Awards.
I had to work that night and I planted myself in the nearby Starbucks to do so, but beforehand I wanted to do or see 'something' that I've never done before in the city. So, I did a little research before our trip and realized that I was in walking distance to the Strawberry Fields, the John Lennon Memorial at Central Park. Bingo!
Admittedly, I've listened to the Beatles and to Lennon's music, but I'm not a 'fan' per se. However, this looked like a pretty cool tribute and I love stuff anything related to entertainment and celebrities, so I decided to walk over and check it out.
Okay, this is a horrible picture of me with the memorial in the background, but I found it!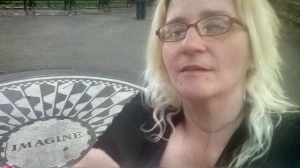 According to the Central Park website, this section of Central Park was named after one of Lennon's favorite songs, "Strawberry Fields Forever." "Recorded in 1966, the song's title comes from an orphanage in Liverpool, England where Lennon used to go to play with the children. His aunt, who raised him, disapproved but he insisted it was, "nothing to get hung about." Hence, the song's famous lyric."
Lennon was killed in his apartment building in 1980, which is across the street from where the memorial is located. Of course, when all the flowers are in bloom, Strawberry Fields is a very nice place to visit and reflect or just enjoy nature. Unfortunately the heavy pot smell forced me to cut my trip to the area short (other travelers might have enjoyed this moment LOL, but it's unapologetically not my thing). The memorial is nice, but it's also not as clean or well taken care of as it looks in other pictures I've seen.
Overall, though if you are a music, Lennon or Beatles fan, or just find yourself taken back by something like this, it's a must see. I have to say that I found myself a little choked up because of what happened to Lennon. I was 15 years old when he died and remember the newscasts and the impact it had on his fans.
For more information on Strawberry Fields, visit http://www.centralparknyc.org/things-to-see-and-do/attractions/strawberry-fields.html.
There is no fee to visit and if you have time there is more to do in Central Park, of course.
Tips from a Virgin Traveler:
Remember turn every outing into something new. Is your child playing in a soccer game a few towns away? Going out of town on business? Look up the area before you go and find something new to you – a museum, restaurant or even just a park statue – to visit.
Utilize your time wisely. If you're only going to be in an area for a short period of time, don't worry about seeing everything and just focus on seeing something you really want to see. You can always come back to an area and visit at a later time, but make sure you visit your top choice first.