Part of being a Virgin Traveler means taking advantage of every opportunity that comes your way to see or do something new. In this case, on the way home from Niagara Falls, New York, I found the Theodore Roosevelt Inaugural Site. If you remember in June I visited the Home of Franklin D. Roosevelt in Hyde Park, only a short ride from my home. I had my National Parks Passport stamped and I was excited that I could get another stamp in my passport by visiting Teddy Roosevelt's site on the way back from our trip.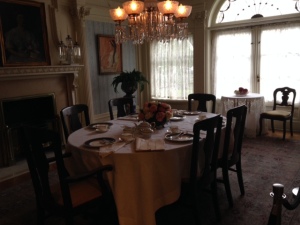 For those of you who don't know, Niagara and Buffalo are neighbors, so we weren't too far away. I went in expecting something as big as the FDR site in Hyde Park, but it wasn't like that at all. It was a building in town, but no big estate.
I am going to give props to the people who work there, because they try very hard to make the entire experience come alive. From the second you start on the tour, the clock is turned back and the tour guide makes you feel as if you are in the time period of when Teddy Roosevelt was about to take over as President of the United States. The tour comes with speeches and displays and I do my best to learn a little something out of every trip I take.
I admit that I was a little disappointed to find out that there are some things that aren't known — exactly how long Teddy Roosevelt stayed in the home and which bedroom he slept in for example — and not all of the things you see are true items from the time period, but instead were purchased to give you that flavor of the time period. There are a few truly authentic items and, for me anyway, it's worth it just to a) get my stamp that I did it and b) see some of the authentic historic memorabilia.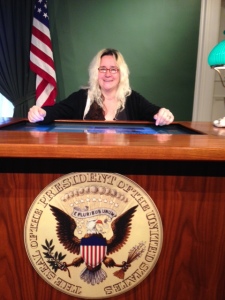 The tour won't take longer than an hour or two and is affordable, so if you're in the Buffalo or Niagara area check it out and get your Passport stamped. And don't forget to sit behind the desk and feel like a real president! (Is it wrong that the the kid in me really liked this? Don't answer that!)
So, what did I learn on this trip:
1. Not everything is going to live up to your expectations, so maybe it's best not to have any expectations! This way you'll enjoy what you get and you're not comparing it to something else.
2. Get something out of every trip you take. I felt a little like I was on a school field trip with this one, but what I take from this is that I really did enjoy learning about what happened during this time period. Yes, I learned it in school years ago, but sometimes it's important to learn things again.
3. Postcards are my thing. Some people collect knick knacks on trips, but I'm trying to declutter. However, postcards don't take up any room, go in my scrapbook that I'm working on and don't cost much. What's your thing?
4. I love my camera, but if you don't remember extra batteries, it's useless. But my phone, of course, works well in a pinch.
5. Hmmm, what fifth thing did I learn? On a long road trip, podcasts make excellent entertainment.
For more information, visit the Theodore Roosevelt Inaugural Site website and let me know what you learned on your last trip.
Until next time!
Lisa