On July 27, my honey, Ej, and I drove up to Lake George, New York for a business meeting for one of our ventures, Sports Palooza Radio.
It's only about two hours from my house, but Lake George had never really been on my list of places to visit. I'm not sure why, but I'm not really a lake person. I prefer to watch the ocean or swim in a pool. The last memory I have of being in a lake was when I was really young and in summer camp and the counselor wanted me to stick my head under the water to see if I could swim. Then, based on how well I did, I would be put into either the A, B, or C swimmers' group. I'm not sure, but I think I was in the C group which, in my young mind, stood for "Can't swim, get me out of here!"
I always wanted to be a good swimmer, but I never really mastered it. When I was told to get in the lake, I remember feeling fish swimming around my feet. It didn't feel good to me and I was already scared about the swim test so I told the counselor I wasn't putting my head in that water. Since then, well my feet haven't touched lake water.
But my honey had been to Lake George at least 12 times and kept telling me he wanted to go back. So when we had business in the area, it was a good chance to check it out for just a little while. And no, I didn't have to dunk my head. As a matter of fact, I still haven't gone back in the water.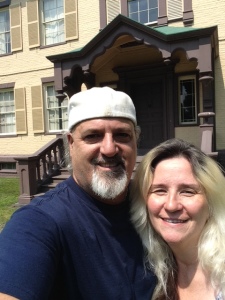 Remember, though, that a Virgin Traveler doesn't just go straight to the destination. It's important to maximize your travel opportunities and, if possible, stop and see things along the way too. Remember how I have a Parks passport that gets stamped each time I go to the park? Well, we found out that we would pass the Martin Van Buren historical home in Kinderhook so we stopped, took the tour and got another stamp. Van Buren was the eighth president of the United States.
My only disappointment with this tour was that we couldn't take pictures, except this one outside (the house is in the back). We've taken photos in the other homes, but not this one. Bummer.
Tip: If you're seeing historical homes during the summer, THEY ARE HOT. Most of the old homes of course had no air conditioning. Yes, they had fans on this tour, but we were still overheated. I might consider seeing some of the other homes when the weather gets cooler.
We also stopped at the Fort William Henry Museum. We were already overheated from the Martin Van Buren tour, but honestly I was really excited about going to this museum. I was disappointed in the property itself. We didn't stay for the tour after all because we were truly overheated and wanted to get to the hotel, so instead we did some touring on our own. Displays needed repair and were a bit boring, but if you have kids, they might enjoy this. It was definitely kid friendly, but we didn't have any kids with us.
The ONE THING that took my breath away was seeing the dungeon. My imagination took over when I opened the small door that had a tiny hole to peek at the prisoner that would be kept in there. The first door I opened had chains on the floor and the rooms were barely 3 feet x 3 feet. I got chills.
Tip: If you're going to visit, and you should stop by just for the historical aspect of it, check Groupon. We got a buy one get one free coupon before we left, which saved us money.
After we were done, we finally headed over to The Sagamore.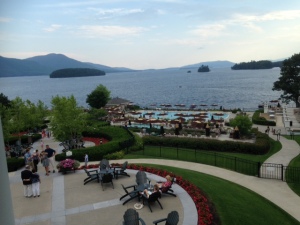 We were only in Lake George for a little more than 24 hours, so we can call this a 'sample', but I still enjoyed myself. We were guests at The Sagamore for the evening and I can't say enough about this resort. It's GORGEOUS. The rooms are beautiful (ours was a suite with a balcony that overlooked the entire property and came with an amazing lake view), the staff is extremely nice and the amenities are great. The kids have activities of their own on the property and there are family activities as well. We enjoyed the outdoor pools and the Jacuzzi.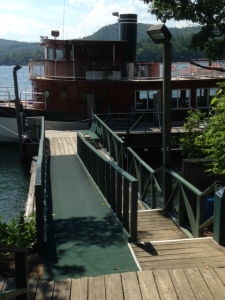 They also have their own boat, The Morgan (the picture is on the right) and you can hop on it during one of the scheduled times for a ride around the lake.
Tip: Book your boat reservation when you book your stay. Don't wait to do it until you get there. Someone who tried to get on the boat before us didn't realize that they needed a reservation and his daughter was so disappointed when they were turned away. It's free for the guests of The Sagamore, but the public can pay a fee to come on board as well. I enjoyed this ride so much. The views were fantastic and it was an hour and a half of pure relaxation (although the breeze went away on the way back!). Throw in a daiquiri and we were good to go.
Bottom line: You need a slightly larger budget for this place, but if you have a little extra money to splurge on your Lake George vacation, especially if you have kids or grandkids that you're taking with you, consider The Sagamore. It's such a treat.
While we were there, we went shopping on the strip near The Sagamore and opted for a less expensive pizza dinner at Palazzo's Pizzeria in town and it was very good (I'm very picky about pizza, so this is truly worth noting).
Lake George made it back on my list for a possible longer visit next time.