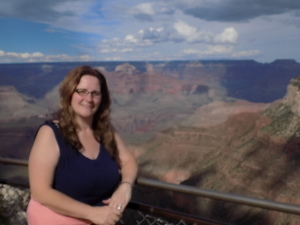 Last month I posted about my travel fears. It had been quite a long time since I had been on a plane, so I was scared about that. I had some financial setbacks this year, so having enough money to travel was a major concern of mine. I was petrified of the idea of bedbugs. And, as crazy as it sounds, I was concerned about actually enjoying what I waited so long for. Well, I'm pleased to say that I'm back from my two-week, three-state venture and I did great! And I enjoyed it! And, except for the slot machines in Vegas, I really did this trip on a shoestring budget, paying for stuff as I went along so it didn't hit me all at once at the end. Oh, AND NO BEDBUGS!
My trip started off with an American Airlines flight to Phoenix, Arizona. The flight went really well, even though I won't deny that I was very, very nervous when we took off. I held my honey's hand very tightly, closed my eyes, took a lot of deep breaths and off we went! It was a strange feeling of nerves and exhilaration. I couldn't believe it was finally happening!
After a few seconds, something courageous came over me. I wanted to enjoy every minute of my experience, so I made the decision to open my eyes as we were taking off and I even filmed a little of the takeoff. My kids were shocked that I did that.
In Arizona, we stayed at the Radisson Phoenix North and visited the Phoenix Zoo, the Sunset Crater Volcano, the Grand Canyon, Bedrock City, and the Musical Instrument Museum. I'll tell you all about those in future posts, but I had a blast. The Sunset Crater Volcano was an unexpected side trip, something I try to do each trip I take. The kid in me loved Bedrock City too.
We then went back to the airport and jetted off on Southwest to Los Angeles, where we really didn't leave the hotel for four days because of a conference I had to attend called The Story Expo. It's a conference for screenwriters and television writers and I didn't want it to end. I pitched producers several ideas that I had! I wanted to go to this for years and I was finally there! Again, more on that later.
Finally, we got on another Southwest flight to Las Vegas! Vegas, baby! It was a little bit of a rougher flight for me, with more twists and turns toward the end. Definitely didn't like that one! We stayed at the Fremont Hotel in Downtown Las Vegas. We visited The Mob Museum and the Strip and ate at Guy Fieri's restaurant.  Can't wait to tell you all about it.
I also met two extremely talented and passionate young girls who served coffee to us in a cafe called Inspire. You'll meet them later.
Finally, the Virgin Traveler hopped a red eye on Virgin America back to New York City. I loved every minute of my travels – okay, not every minute, and you'll find out what I didn't like in a future post, but I made it home. I can't believe I looked out the window and by the fourth flight the take off didn't even get to me. We are already planning another two week trip for February. Last February in New York was bitterly cold with a lot of snow and we want out!
Well it's back to writing and work and planning for the next trip. So, what trip have you taken recently? Tell me about it! Are you a Virgin Traveler? Tell me your story!
Until next time,
Lisa