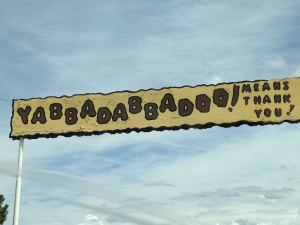 We had already made one stop on our way to the Grand Canyon, but another much more unexpected stop was about to happen. Only about 15 minutes away from the Grand Canyon, I couldn't help but to make a sudden left turn into The Flintstones Bedrock City!
Yabba-Dabba-Dooooo!!!!!!
It was like my childhood came alive right in front of my eyes! I spent hours watching The Flintstones when I was a kid and even used my kids as an excuse to watch it again. Bedrock City is a gift shop, theme park (use that term loosely), restaurant, RV park and campground in Williams, Arizona.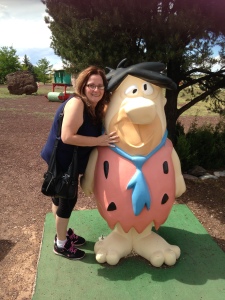 For those of you who live under a rock (it's a quarry joke), The Flintstones was a 1960s cartoon about Wilma and Fred Flintstone and their best friends Betty and Barney Rubble, their pet Dino, their daughter Pebbles and the Rubbles' son Bamm-Bamm and their life in the Stone Age. It ran for six years and then again in syndication. You can watch it on iTunes for $1.99 per episode today, but check Amazon for the DVD collection or check your local library.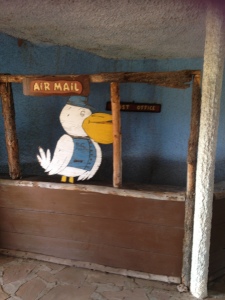 Okay back to Bedrock City. The kid in me was absolutely excited to be running around (okay I walked fast) to each building – The Flintstones' and Rubbles' homes, the hair salon, the post office and the jail, but the adult, travel writer in me was sad.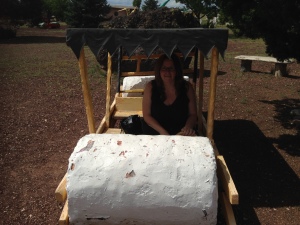 The place could definitely use a pick-me up. Some of the buildings were a bit worn down and could've used more props. I really want this place to be successful, but there weren't a lot of people there. I know it's up sale now too, but if it gets (or has gotten) a new owner, I HOPE that they give it the TLC it deserves. (One note: where was the bowling alley?!)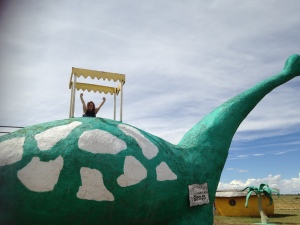 Another problem is unless you're an adult going there for nostalgic reasons, today's kids don't watchThe Flintstones like we did, so why would they want to see this campground? Maybe this property needs some sort of marketing opportunity with other theme parks, DVD giveaways, or 'something' might draw in more traffic.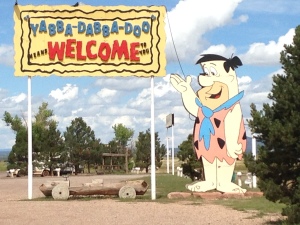 Even still, I couldn't whip out that $5 fast enough to be able to walk around and take pictures with the cast of characters. The little girl in me was thrilled and if you liked The Flintstones as much as I did, you'll enjoy it for a few minutes.
For more information, check out their site http://www.bedrockaz.com/
Next post: WE FINALLY MAKE IT TO THE GRAND CANYON!