When I was looking for a place to stay on my trip to Phoenix, Arizona, I found the Radisson Hotel Phoenix North, located on North Metro Parkway East. I spoke to the manager and found out that the rooms and the lobby were recent remodeled, a venture that took from July, 2014 to January, 2015.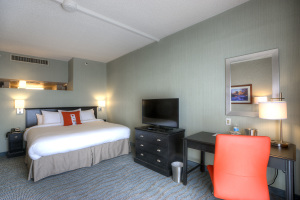 The hotel is targeting the family market. It's in a central location to other area attractions and is close to a local small amusement park with plenty of places to eat close by. If you're coming to town because you and your family are sports fans and are here to see a Diamondbacks or Cardinals game, then you definitely will appreciate the Radisson Hotel Phoenix North. And make your plans early for the 2016 College Football Playoffs. Phoenix will also host the 2017 NCAA Championships as well, so early planning!
Full disclosure: One of my two nights at the hotel was complimentary, but if I didn't want to stay at this place, I'd say so. If I didn't find it something I would recommend, you'd know it. Bottom line: the beds were extremely comfy, the rooms were very clean and the staff was very nice. We used the pool — again it was clean and in good condition. Overall, I would recommend this hotel, but keep reading.
Here are some features of the property:
Non-Smoking Property
Complimentary 24 Hour Business Center
Complimentary 24 hour Fitness Center
Outdoor Heated Pool & Whirlpool
Complimentary Shuttle (3 miles) based on availability
Complimentary Parking
Close Proximity to Golf Courses
Complimentary Wireless Internet Service (I think every hotel should have this in this day and age, but you'd be surprised what my other experience was on the trip. Ugh!)
The only complaint I have about the Radisson is their breakfast. It was $15 per person and I thought it was overpriced. If there were more selections, then maybe I would find the price worth it, but to the hotel I would suggest adding some danishes and perhaps muffins or something else to round out the choices. I barely spend more than a few dollars on breakfast, so if I'm going to spend more, I want more.
For more information on the hotel, visit http://www.radissonphoenixnorth.com/.