On my list: Visit the Grand Canyon. CHECK!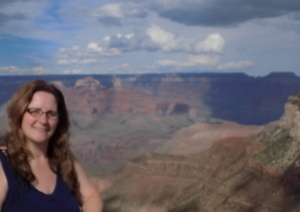 Oh man, is it beautiful or what?! There are no words that do it justice. If you can go, go.
As commercial as it is (tour buses take you around) it's also very well organized so the commercialism didn't bother me as much. We got off on four points of the bridge tour to check out the Canyon's view. And we just stopped and sat and stared. Seriously. If you are going, it will take more than a day or two to see everything if you really stop and enjoy it.
Some people got off the bus, snapped a few pictures and kept walking. They barely looked at the Canyon without their phones! How do you do that?! We would sit down and just take the views in. It was so dense and quiet (as opposed to Niagara Falls which is so loud). I don't have hundreds of pictures of the Canyon for this very reason. I just wanted to look at it, to watch every crevice and listen for every sound.
I got misty looking at the Canyon.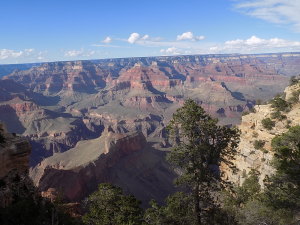 The greens and reds and blues and just immenseness of it all. Unbelievable. I'm not going to sit here and tell you about the buses and the times and any of that. You can look it up on the Internet.
I'm here to tell you, PUT THE DAMN CAMERA/PHONE DOWN. Okay, take a picture or two before you go,
but SERIOUSLY, PUT THE DAMN CAMERA DOWN AND LOOK.
Take in that beauty. Think about your own neighborhood. Does it look like that? Of course it doesn't. The Grand Canyon is something that needs to be EXPERIENCED and FELT.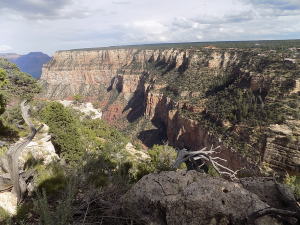 Sit, look and feel. It's an emotional experience. If you're not doing that when you're looking at something this incredibly, ridiculously, unbelievably gorgeous, you're missing out.