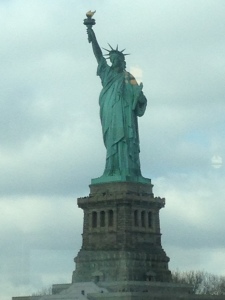 I was born and raised in New York (Yonkers, to be exact) and I worked in New York City for five years and I went to school for three years at the New York Institute of Technology in Manhattan. And in all that time, I've never been to Ellis Island and the Statue of Liberty (The Statue of Liberty was dedicated on October 28, 1886.  It was designated as a National Monument in 1924). I've seen the Statue from afar on an overnight cruise and I've seen it when I was on a bus with one of my children to a school trip to a nearby museum, but I've never gone to it.
It was my honey's birthday and he's always wanted to see both as had I, so I treated him to an overnight in the city. We headed to New York City via Metro North and then subway (my first ride in probably 25 years) to Battery Park where we embarked on a ride via Statue Cruises (there's also a New Jersey entrance too).
Virgin Traveler Tip: Just like at the airport, your items will be searched at the entrance to the Statue Cruises and the Statue of Liberty! We went to Liberty Island first and if you don't get chills or at least a sense of pride as you get closer to the Statue, I don't know what to tell you. I got a little choked up thinking of living in the States and the freedoms I've had. We didn't get to climb to the crown (and I mean a 167 or so stair climb) because the tickets sell out about three months in advance. However, we did go to the pedestal and look out at the gorgeous views of New York City.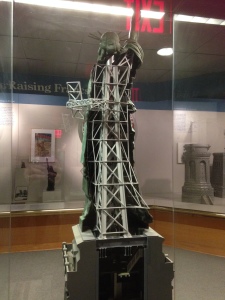 The Statue also has a small museum where you can learn about its beginnings, but honestly I just loved staring at it.
We got back on the boat and headed over to Ellis Island. Here, again, you have to have a sense of wonder and a sense of imagination.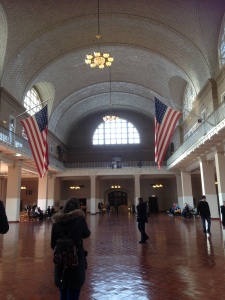 You'll stand in a large room called the Registry Room where you can imagine 5,000 immigrants filling that room waiting to be allowed into the States. Each one of them with such unique, interesting and sometimes heartbreaking stories. Then there were separate rooms where the immigrants were taken and had their mental and physical abilities checked. Being born in this country, I can't imagine what they all went through.
I'm currently working on a book about a man (it's his memoir) who came from India to the United States back in 1961. He had just about $100 in his pocket when he landed on this soil. Again, I can't imagine.
Virgin Traveler Tip: Of course, we got our National Parks Passport stamped! On this trip, we actually had FOUR stamps! One for Ellis Island, one for the Statue of Liberty, one for the centennial and one for Castle Clinton, which — like many before us — we passed through on our way back from Ellis Island and the Statue of Liberty.
One special note: Do you remember this scene from Hitch with Will Smith?
I expected that there would be a place where I just see my own heritage, but alas, you have to pay for a search.
Virgin Traveler Tip: Also, it's a lot of walking around, so if you have any issues, make sure to wear comfortable shoes, take breaks and sit down. We pushed ourselves a bit much that day and were very sore, but it was worth it.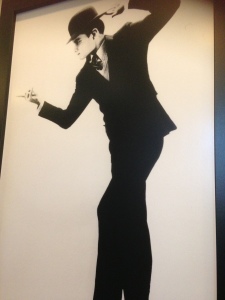 DID YOU KNOW? There is a very small exhibit about Bob Hope on one of the floors of Ellis Island? I'm a movie geek and took time to visit. Not sure if it's a permanent exhibit, but if you were a fan of his, or movies in general, check it out. He has an interesting back story about coming to this country.
After Ellis Island, we got back on the boat and went back to Battery Park.
Loved this day trip there and it took us about 4 hours to see everything, but depending on if you see the movie and do your own search, it might take more.
Virgin Traveler Tip: If you want to expand your trip, there is the National Museum of the American Indian, a FREE museum about Indian history, right across the street from the entrance to the boat.
For more information, check out the websites of the individual sites and make sure to plan accordingly before you travel. Virgin Traveler Tip: Reminder that Crown tickets sell out early and you need to reserve ample time for your visit. We met two girls who wanted to get on the boat one hour before the islands closed. Unfortunately the ticket offices had already closed.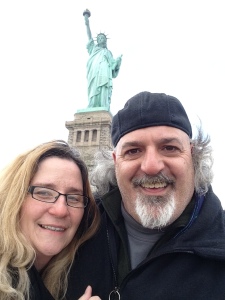 Happy Birthday Honey!