So on the way to Atlantic City, we stopped in Paterson, New Jersey and got another stamp for our Parks Passport book. All the way down — as I mentioned in my last post on Paterson, I kept thinking "Lou Costello was born in Paterson, New Jersey! I wonder if they'll have anything in his honor?"
We stepped into the Parks office and right there was a map with "Lou Costello Memorial Park" on it. I became a ridiculously giddy little girl again. I'm a huge Abbott & Costello fan. I have a life-size cutout of the duo in my family room. I have an Abbott & Costello coffee mug and a "Who's on First?" t-shirt. I also found out that there was a Lou Costello exhibit at the Paterson Museum (who knew there was a Paterson Museum? LOL) and I knew I had to see that too.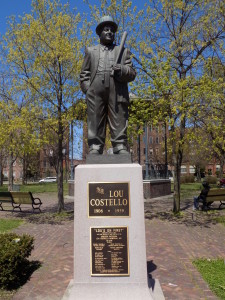 The waterfalls were cool, but as soon as we were done I bolted to find that park. It was a very short drive, but I have to admit, however, that it's not in the best part of town and the park isn't really maintained well. But there it was.
and I took a photo with Lou Costello's statue!
Seriously if you don't know who Lou Costello is right now, please go back and watch some of the old Abbott & Costello clips on You Tube. Like this one.
After the park, we went over to the exhibit. It was small, but you have to understand how much I love this guy. Seeing his photos and memorabilia from his personal collection is like baseball fans seeing Babe Ruth memorabilia.
Do you know how many times Cianci Street is mentioned in the Abbott & Costello shows? A lot! Here it is in Paterson, New Jersey!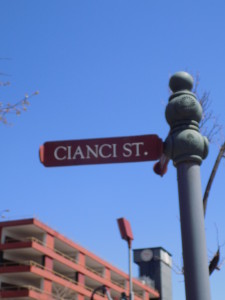 Right in front of me at the exhibit was a 1940s script that belonged to Lou. A script!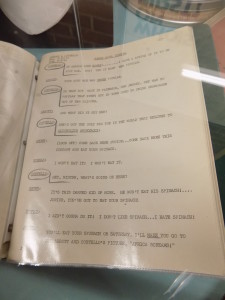 So far in my travels this year, I have really tried hard to combine film and entertainment in my virgin traveler adventures. At Ellis Island, I found an exhibit about Bob Hope and now this one on Abbott & Costello. My tickets are also booked for the Lucy Comedy Fest in August in Jamestown, New York. Lucille Ball was my idol growing up. I can't wait to see the exhibit and the town that she grew up in. It should be a blast!
Have you gone to a favorite celeb's hometown and toured it? If so, who?