In just a few short weeks, I'll be heading out to Chicago, Illinois. I didn't originally plan to be in Chicago, but I'm so glad I'll be visiting. Let me tell you about my accidental trip to Chicago. I've also been asked how I plan my trips so I thought I'd share that too.
Last year, I planned on visiting Nashville, Tennessee with my honey and my daughter, but my diagnosis of stage two breast cancer derailed my plans. The tickets were already purchased so I put them on hold and hoped that once surgery and treatment were over, we would head down to Nashville. A funny thing happened on the way to Nashville — the airline ticket prices went up and up and up. I had gotten a pretty good deal on the airline tickets and I really didn't feel like shelling out hundreds of dollars more to travel to Nashville, Tennessee (although it's on my list to get there this year). Money was tight because I didn't work as much as I wanted to last year under the circumstances, so I decided that this was my budget for airline tickets and I wasn't going to spend more.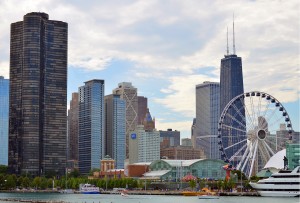 One night, I researched other options. Florida? Too expensive.  New Orleans? Too expensive. Texas? Well, you get the idea. After awhile — and I mean days — I thought I would have to cough up the extra cash. Until I found that Chicago fit the budget.
My daughter was thrilled. She wanted to see the hometown of her favorite band, Fall Out Boy. She also wanted to go to the Navy Pier and hold up her copy of Divergent where the movie version was filmed (right). Me? I am excited to visit the American Writers Museum. Also on my travel agenda:
Museum of Broadcast Communications — this place looks amazing! I wanted to see the Saturday Night Live exhibit that is running there through the end of 2018. I wanted to see this when it was in New York City and missed it, so I'm thrilled to get to see it now. We are also taking in the Chicago Art Institute, the Adler Planetarium and stopping by Oz Park for a selfie with the statues of the characters from The Wizard of Oz.
Of course, we're taking a tour of Wrigley Field while we're there too! The number one thing I can't wait to do — try pizza! I'm a pizza junkie so this taste test should be good.
So much to see and do in Chicago.
To plan our trip, I started a spreadsheet and listed our hotel price and the places I wanted to see, including the prices. Then, with every paycheck, I put aside the price of one event leading up to our trip.  It was an easy way to save up. The list also included the cost of transportation from home to the airport, an approximate cost of Ubers we will spend as well as a daily food budget. Once I made the budget it was easier to decide where to go and what to cut if we were stretching the budget too much. I do this with every trip. Of course, there are unexpected costs on any trip, so add in a little for that too. I do this with every trip and my spreadsheet is planned for the year. I can't always go on every trip I plan because of money or personal commitments, but this is a great start.  I hope you start to plan your trips too.
I'll make sure to post my Chicago trip as soon as it's done! Have you been to Chicago? What was your favorite place?