The last time I was at Disney World, Hollywood Studios was called MGM. I don't know when it changed and I really don't care. Call it whatever you want, but I absolutely love this place. It's where you feel like you're part of the movies, my favorite pastime. I didn't want to leave here. I felt at home here. I always wanted to be a screenwriter – now I'm working on making that happen – and this place made me feel like I could do it and be part of an industry I dreamed of my entire life. I guess that's what they mean by Disney magic.
There's the Indiana Jones Epic Stunt Spectacular, the Jedi Training Academy, Lights, Motors, Action Extreme Stunt Show and so much more. I've seen it many times, but I love "The Great Movie Ride," because it's like taking a stroll through movie history (If you go, think of me when you see the Singin' in the Rain" section). If you'd rather watch Jack Sparrow, check out The Legend of Captain Jack Sparrow. Everyone of all ages should watch the Muppet Vision 3D show and, new to us, was Toy Story Midway Mania. We waited a little more than an hour for this ride and it was soooooo much fun! It's a shooting game that twists and turns you in different directions (I suffer from vertigo and no, it didn't make me dizzy). Here's one seriously cool part of this ride: unlike other waiting areas for rides, this waiting area took you on a trip down memory lane with old board games and toys donning the walls and ceiling (look up!) while you waited your turn.
Of course we took the Studio Backlot Tour and we even enjoyed the Walt Disney: One Man's Dream exhibit. I'm not a Twilight Zone Tower of Terror kind of person, but that popular ride is in this park as well.
Everything in this park, from the souvenir stands to the rides and attractions make you feel like you really did just step onto a movie lot. That's why it's my favorite Disney World park.
One final note: my kids adore the Toy Story trilogy. It's my son's favorite movie series. He grew up with it and still watches it with us and his friends and he's in college! So we couldn't miss eating at Pizza Planet. We had lunch there just to say we ate at Pizza Planet! I was a little disappointed that there was no game with 'The Claw' though. How appropriate would that have been! As much as I love Disney, nothing beat the look on my grown son's face as he took a picture in front of the restaurant.
The kids, now all grown, took Universal Studios by storm on Day Four all by themselves. We stayed back for some much needed R&R. They loved it and have waited for this moment to see the Harry Potter park since it opened. I wanted to be there to see the looks on their faces, but since it cost almost $100 to get in and we wouldn't do much more than walk around, we decided to forego forking out that kind of dough and save it for something else (I love Universal, but I did that already and as much fun as the Harry Potter park was for the kids, it wasn't worth the $200 we would've spent if you're not a die-hard fan. I gave some of it to the kids to get souvenirs, our treat.
We finished out our trip at Epcot on the Fourth of July — great place to try new foods and cultures but it's a lot of walking and I was kind of spent by the end of the day. We headed home on Saturday and I already miss being there. I want to start planning again, but this Virgin Traveler has so much more of the world to see. Here we are at Epcot: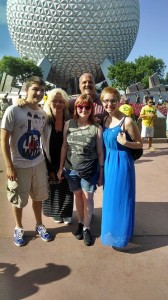 My honey and I have already started planning our mega road trip for next year. More on that to come. AND — drum roll please — I'm starting to put together my own Virgin Travel radio podcast and You Tube channel. I'm excited! What would you like me to focus on or talk about???