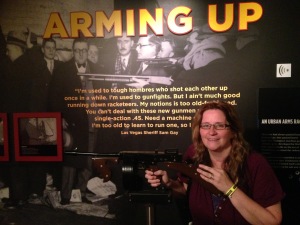 Our trip wasn't over yet. We went to Vegas baby!!!! I always wanted to go to Las Vegas just to say I've been there and because so many people I know have already visited. I guess I got tired of hearing, "You haven't been to Vegas?!" so going to Arizona and Los Angeles, I couldn't help but hop a short flight over to Vegas.
I have to admit that although I didn't fly much leading up to this trip (see previous posts about my Virgin Traveler fears about flying), our flight to Arizona was fantastic, thanks American Airlines! Our shorter flight from Arizona to Los Angeles was also a good one! Thanks Southwest! However, the Southwest flight from Los Angeles to Las Vegas was a little rocky. If you can brake in mid-air, speed up, turn the corners, break and keep going as if you were driving a car, this flight did that, but my equilibrium didn't like that! Otherwise I really liked flying Southwest.
So much to talk about when it comes to Vegas, but let's just get the important stuff out of the way – there was something wrong with the slot machines! They seemed to eat all of my money. I don't understand. It must've been a computer issue or something. I would put my loyalty card in the machine and I couldn't really get any playtime. It's almost like the machine knew that it was me playing and didn't want to give me any money. How did my friends win in Vegas?  I don't get it. I hope they fix that before I come out there again.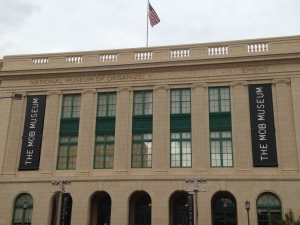 I'll post more on Vegas, but today I want to focus on the Mob Museum. I feel bad that I didn't get this post up in time to tell you about a special event at the Mob Museum (which is located in the downtown Fremont Street area) in early November, but I have to tell you, if this post does one thing, it better get you to visit this museum WHENEVER you go.
There are events all the time, including the upcoming Breaking Bad exhibit (it might even be worth airfare for me to go back again since I was such a fan of that show) that will include
Distinctive shirts, pants and other clothing worn by the two main characters, Walter White, played by Bryan Cranston, and Jesse Pinkman, played by Aaron Paul. (OHMIGOD!)
Yellow hazmat suit worn by Cranston in scenes where White was cooking meth.
Two gas masks and rubber apron.
Author Bernie Sindler will sign copies of his book, The Bernie Sindler Story: My Life with Meyer Lansky, Bugsy Siegel, and the Mob, from 1-5 p.m. December 11 in The Mob Museum retail store. And The FIFA exhibit that focuses on the scandal is open now and closes February, 2016 – don't miss it! It's free with your admission.
If you like incredibly well-written crime shows like Breaking Bad or mob flicks like The Godfather, you read mystery novels or like true life crime stories, you will love this museum. Even if you don't do all of that, you'll like this museum. Okay, to be honest, it's weird liking a museum that gives space to people who have killed others, but there is something absolutely fascinating about it. The true stories are documented well as their part in history. And there's no other place I would throw my anti-gun beliefs aside to shoot a machine gun.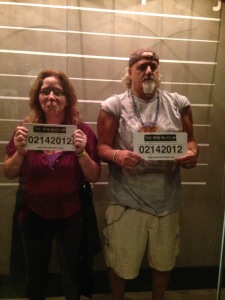 We had so much fun here and learned so much. I was fortunate to be able to talk to the museum's Director of Content Geoff Schumacher after our tour and I asked him why this museum was so popular. "Everybody seems to have a story about someone in their family or someone they knew," he said. "They have a connection and want to learn more."
Last year, the museum started offering audio tours, which is a great way to self-tour and listen to stories along the way (we had this option in the Musical Instrument Museum too. I love that. It makes touring museums so much more interesting.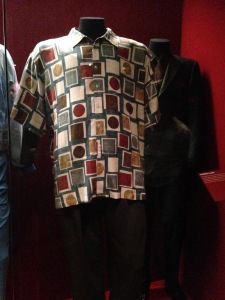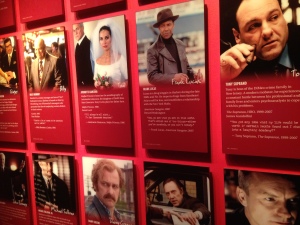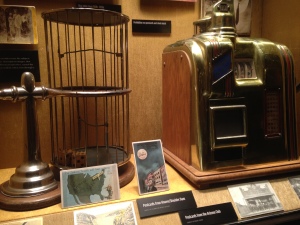 For the movie and television lover in me, there is memorabilia from The Sopranos and other movies and a whole wall of the different mob movies there has been in entertainment history.
It will take you a few hours to get through the entire museum and, please, kids under 12 probably won't handle the gory photos and probably won't comprehend the exhibits in a bigger historical context.
The Museum is located at 300 Stewart Avenue, Las Vegas, NV 89101, and open from 10 a.m. to 7 p.m. Make sure you go so the next time someone asks, "Did you see the Mob Museum on your trip to Vegas?" you can answer, "of course."  Visit http://themobmuseum.org/.
Seriously cool.