So, how did I get to Paterson, New Jersey? Being a Virgin Traveler means doing things you haven't done before, and I've been to Atlantic City, New Jersey at least a dozen times. But when I was looking for a place to just get away and didn't want to spend a fortune, Bally's in Atlantic City, New Jersey came through. One of their specials of being a card holder was a free room for five days and the only thing we had to pay for was that dreaded daily 'resort fee.' We just needed a few days away before the summer when the kids are home from college and our schedule changes. Working while we sat at the beach instead of at home and walking the boardwalk just seemed like the perfect fit. More on that part of the trip later…
Of course, the Virgin Traveler knows to look for new things to do along the way and the first thing we did was look in our National Parks passport to see where we could get another stamp. The Paterson Great Falls Park is a National Historic Park in Paterson, New Jersey and it was on the way.
According to their website, the "history of the City of Paterson includes being an ambitious project for Alexander Hamilton and the Society for Establishing Useful Manufacturers (S.U.M.) in 1792 at the Great Falls, the early development of water power systems for industrial use, and the various types of manufacturing that occurred in the District's mills into the 20th Century. These included cotton fabrics, railroad locomotives, textile machinery, jute, and silk spinning, weaving, and dyeing, among many others."
(And Yes, that's THE Alexander Hamilton — you know, from that Broadway musical.)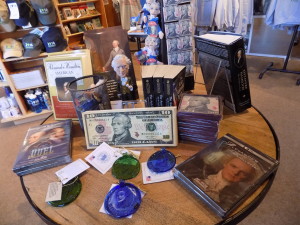 So we stopped by and got our passport stamp. When we went into the office to do it, they were playing the Hamilton musical soundtrack. Of course, there were tons of Alexander Hamilton souvenirs you could buy.
Outside you can meet Alexander Hamilton! No you can't silly. But there is this statue of him and it's the closest you'll ever get, so I took my photo with him.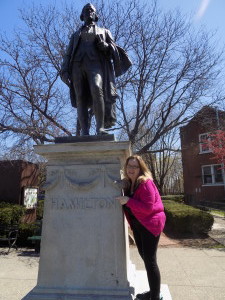 And of course there's the waterfall. Now I've seen Niagara Falls now, so of course in comparison this is a baby waterfall, but what I love about seeing places like this is the history attached to it. Boy, I hope my high school history teacher doesn't see how much I enjoy learning about history now. But if you had sent me on some trips when I was much younger, I might've cared a little more about memorizing dates. Right? Okay, stay in school kids and memorize your dates! One day, you'll be like me — on the road and remembering that you learned about this stuff back then. And then, you'll actually get how cool it really is.
Now to get to the park you have to go through the city of Paterson. At one point, we thought the GPS had lost its marbles and then just when we thought we'd hit yet another residential section, we turned a corner and there was the entrance to the park. We got another stamp!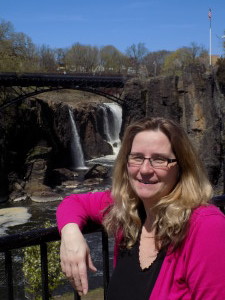 On the way down, I also remembered that the famous Lou Costello was born in Paterson! Now, if you don't know who Lou Costello is, I'm sorry. We can't be friends anymore. Nah, I'm only kidding. But if you want to know who he is, he was one half of the comedic duo of Abbott & Costello and I was hoping they would have something related to Lou and his career. They did! That's my next post and it absolutely made my day! In the meantime, you might know of Costello from one of his famous bits with Abbott called "Who's On First." (BTW, I have the T-shirt with the entire script on it and a HUGE coffee mug with it too.)
Watch this: