Of course we had to eat while we were in New York City and, since it was my honey's birthday, we toasted to him!
We ate at Carmine's location in the theater district at 44th and Broadway. I heard a lot about Carmine's from friends who had eaten there and I wanted to enjoy a nice birthday dinner there. Unfortunately, while we tried to make reservations for Friday night, we couldn't get in, so I settled for lunch on Saturday.
According to Carmine's website, the first Carmine's location opened August 14, 1990 at 2450 Broadway on the Upper West Side of Manhattan. "The classic decor of this flagship Carmine's evokes the image of marquee New York restaurants that made this city into what it is today."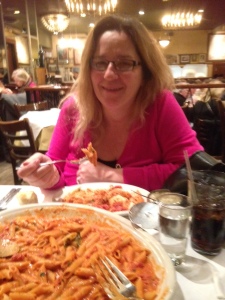 Virgin Traveler Tip: Carmine's serves family style, which means big bowls of food. Perfect if you're traveling with a group of people. Order a few different dishes and share! We ordered penne ala vodka — YUM! If you are traveling by yourself, order a dish and take the rest home! That's pretty much all we ordered because it was lunch and way too early to eat a large amount of food, but again YUM! Will definitely be back!
Virgin Traveler Tip: When we were eating at Carmine's, I asked about a doggie bag to take back on the train ride home. I was told that if we had been going to see a Broadway show, some of the theaters do not allow that you carry your doggie bag into the theater so keep that in mind. Ask before you go!
Carmine's
200 West 44th Street
New York, NY 10036
Take Out: 212.221.3800
CHEERS! 
The night before, while walking around the area of the Hotel Pennsylvania, we made our way over to the Empire State Building and found Heartland Brewery,  a two-story 450-seat Heartland equipped with two large bars and four giant flat-screen TVs, where we celebrated my honey's birthday!
Cute place and we had a great conversation with our bartenders while they were in between serving their customers.
Heartland Brewery and Rotisserie
350 5th Avenue, New York NY 10001
212.563.3433