I've been an 'I Love Lucy' fan for as long as I could remember. As a kid, I wanted to stomp grapes and wrap chocolate. I would hold bottles of cough syrup and pretend to do a Vitameatavegamin commercial (the drunk version). I also wish I had a dollar for everytime I said "Lucy, you got some 'splainin' to do' or 'Luuuccccy I'm home.' No, I didn't know anyone by the name of Lucy. I just made sure to say these famous phrases whenever it fit. I know every word of every episode of I Love Lucy. I only disliked a few episodes (the visit to Scotland is one of them). I wanted to meet Lucille Ball. I wanted to 'be' Lucille Ball. She was my idol and I admired all the work she did to pave the way for other female comedians, writers, producers, etc., after her. I read whatever I could on her and saw her on whatever show she was on.
Years ago, when I went to Atlantic City, New Jersey there was an 'I Love Lucy' exhibit with memorabilia from the show, including clothes, awards and props. I remember turning a corner at the exhibit and seeing a re-creation of both the Manhattan apartment and the California hotel room. My eyes welled up and I couldn't control the tears that flowed.  I felt that I stepped back in history and right through my television set. It was THAT good. I felt like I was in the Desilu Studios watching a taping of 'I Love Lucy.'
When I found out that Lucille Ball was born in Jamestown, New York (only a five-hour drive away from my own home), I added a trip to this small town to my must-see list. I wanted to see where my idol was born and raised. Then, I found out about the Lucy Comedy Fest, an annual event in Jamestown where there are comedy shows, grape stomping (yes!), candy wrapping (yes! yes!), tributes to Lucy and tours of "Desilu Studios" which is more of the re-creations and memorabilia.
For several years I tried to get to this Comedy Fest, but the stars didn't align until this past August when I finally went with my honey (who isn't an 'I Love Lucy' or Lucille Ball superfan per se, but had a great time nonetheless).
We took a tour of the studios and went to a dinner with the twins who played Little Ricky, Joseph and Michael Mayer: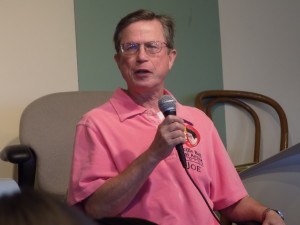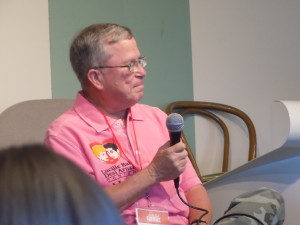 I went to a panel where Peter Farrelly (There's Something About Mary (1998), Me, Myself & Irene (2000) and Dumb & Dumber (1994)) told really funny stories about his career (Bobby was sick with the flu but was scheduled to appear) and then took a lucky winner for a ride in the Mutts Cuts van from the movie 'Dumb & Dumber.'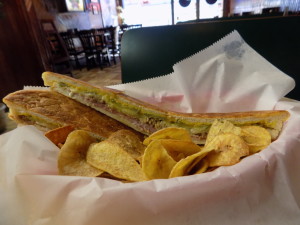 I went to both the Babalu Cafe and the Havana Cuban Cafe & Pizzeria (where I had my first Cuban sandwich — YUM! — thanks Ruben!, who also happened to have the best flan around).
I finally lived out my dream of grape stomping and chocolate wrapping too! The volunteers dressed us up similar to what Lucy wore (even my honey let them wrap a 'skirt' and a bandanna on him)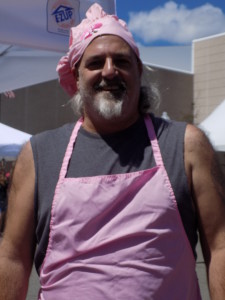 and we stepped into a basket filled with grapes. Stepping into the bucket felt cold and goopy and absolutely wonderful. I couldn't wait to start. For two minutes, we stomped in circles and crushed the grapes. The lady next to me really got into it and threw the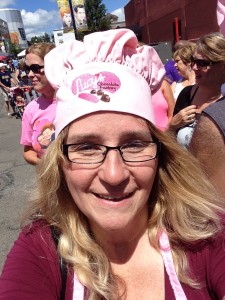 grapes at me, just like it happened to Lucy in the episode. Can I say 'so much fun' too many times?
The chocolate wrapping was a hoot. My honey and I did it together (I'm Lucy, he's Ethel) and it was much more difficult than I thought it would be. Speed it up a little! they did! and before you know it there were chocolates flying everywhere and we just couldn't keep up and we kept laughing. I resisted the urge to hide the 'chocolates' down my shirt and in my hat.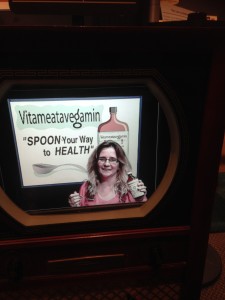 Recording a Vitameatavegamin commercial was awesome. I want to give props to the Museum because after I recorded my first (non-drunk) commercial, I accidentally deleted it and they let me in again to record it. Afterward, I had some regrets about not doing the drunk one, but hey at least I gave it a shot. Cut me some slack, I got stage fright with others watching me. LOL).
I've told so many people about this comedy fest  that the attendance should go up next year.  Hopefully I'll come back and see it again. The professional comedians who were there this year included Brian Regan, Trevor Noah, and Lewis Black. There were Lucy & Ethel shows and tours of Jamestown.
We saw the homes where Lucille was born and raised and heard stories about the couple who bought her childhood home just to make sure that nobody remodeled it (they were outside waving to our tour bus).  We went to the cemetery where Lucille is buried. I admit that I cried a little. I cried the day she died too.
We were there for her 105th birthday celebration (Lucille died in 1989) and saw the 'ugly' Lucille Ball statue.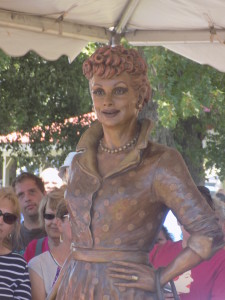 We also saw the unveiling of the beautiful new Lucille Ball statue and sang 'Happy Birthday' to her (again, got choked up). I paid homage to the woman who meant so much to me growing up — she made me laugh and thanks to her hard work inspired me to achieve whatever I wanted and not let being a woman stop me.
Jamestown will also become home to the National Comedy Center, which is currently being built. It is a 50 million project funded by public-private partnership and has been awarded more than $3.5 million from New York State, Empire State Development and I Love NY™.  Many of the professional comedians who came to the Festival went on a private hard-hat tour of the future site.
"Comedy is one of the most overlooked of all the arts–it's usually the dramatic stuff that gets all the attention & recognition," said Peter Farrelly in a release. "So to have a place that will celebrate comedy and the comics of the past is a great thing."
In case you were wondering, we stayed at the Red Roof Inn in Falconer, New York. A shout out to the manager there because we were accidentally double-billed for our entire stay (if you're on a tight budget, things like that can hurt). She did everything she could to make sure it was fixed right away, so thanks! This was my first experience with a Red Roof Inn and it was very clean and comfortable. The staff was extremely pleasant as well.
If you're interested in going to the Lucy Comedy Fest in 2017, go to the website and sign up for the newsletter so you know when they announce the dates. Book your hotel AS SOON AS the dates are announced, but be forewarned that the rates of some of the hotels will double. We got a decent rate and the Red Roof Inn was only about 10 minutes from town so it was very convenient. There was plenty of parking around for every event, so I recommend staying here if you're going and, if you're a Lucy fan, GO!
I'll post more of the Lucy pictures, plus my foodie photos in another.
Are you a Lucy fan???! Tell me about it!