When I was a little girl, I remember saying, "One day I will be standing on the 50-yard-line of Lambeau Field." I didn't even know if that was possible, but it was something I wanted to do. On October 8, 2016 I made that dream happen. Here's how it all happened:
Last April, as soon as the NFL schedule came out,  my honey and I picked a game to attend. We knew it was going to be the year to finally head to Green Bay. After some discussion — he didn't want to root against the Packers — I told him it was okay. His team is the New York Giants and they were playing against my Boyzzzz on October 9. That was the game we were going to see (we hoped!). Word of caution, if you want to see a Packers game ACT FAST. Once the Packers announced that the fan tours were available, we called and bought just our tickets (which you can do individually without buying a package).  It was official. We were going!
Next, we had to book our hotel and everything was so expensive, of course. Some places were sold out so quickly too. We looked a little outside of Green Bay, opting to stay at the Quality Inn in Appleton, which was an affordable $102.00 per night at the time.
I did my research and found that there was a Stadium Tour! We bought those tickets early too and planned on taking the tour the day before the game. When we arrived in Green Bay, we decided to look for a restaurant, when lo and behold right in front of was the biggest "G" I'd ever seen, which was the side of LAMBEAU FIELD! We made a beeline to the parking lot and didn't know that we were allowed to look around certain parts of the stadium even before our tour. We also went to the incredibly large Packers store (yes, I really did need Green Bay Packers pepper LOL).
Just to give you an idea of what being at Lambeau meant to me, my honey recorded me as I cried while driving into the parking lot!
The next day, we took our tour and can I say I couldn't stop smiling. Because THIS HAPPENED:
FIRST WE WALKED THROUGH THE TUNNEL (Photos aren't allowed there!) and then this: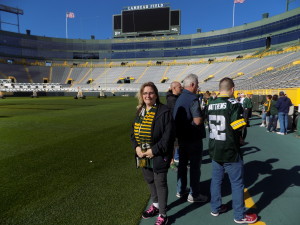 MY DREAM CAME TRUE. I'M ON THE 50-YARD-LINE OF LAMBEAU FIELD!  (Ignore the windswept hair!)
If you're going to a Packers game, TAKE THE TOUR!
I cried. I didn't want to leave. My honey and I were the last people who left the field and the tour guide was awesome about it. I told him I didn't want this moment to end.
Let me repeat: MY DREAM CAME TRUE. I'M ON THE 50-YARD-LINE OF LAMBEAU FIELD!  
Can we just reflect on that for a moment? Do I have to continue? Okay, I'll move on. LOL
Here are a few more photos from our tour: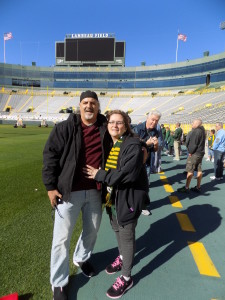 Here is a view of the stadium from the VIP box.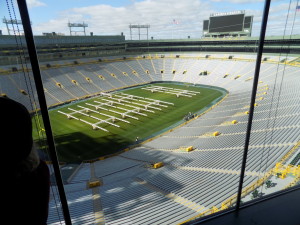 And of course the Super Bowl rings!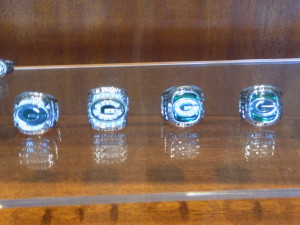 It was so much fun because we stood at the top of the stadium and, with the other people on the tour, yelled out GO PACK GO! and it reverberated back. It's a fan's dream come true.
See more Green Bay posts coming on on the Hall of Fame, the Game (of course!) and my review on the Quality Inn in Appleton.
GO PACK GO!